Lockport Senior High School
Class of 1966
ANNOUNCEMENTS
LET'S CELEBRATE THE BIG 70!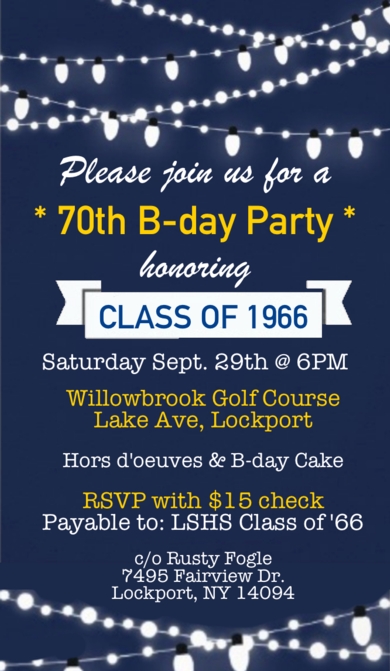 I had the pleasure of attending the our 70th birthday party at Willow Brook Golf Course. I had a great time, it was well planed with tons of food, the enjoyment of seeing our fellow classmates and the catching up with their lives. Rusty and Linda Fogle must be commended for their time and hard work that went into setting this party up. I will be looking forward to seeing the posting of the pictures taken.......Jim Lee
2018 ~ let's party!
Check out the new "Vintage Photo Gallery" in the column to the left.

View Your '66 Yearbook Online!
If you can't find your old copy or never bought your Senior Yearbook ~ it's available for viewing thanks to Judy Glover. You may have to sign up for 'free' on the Classmates.com website.